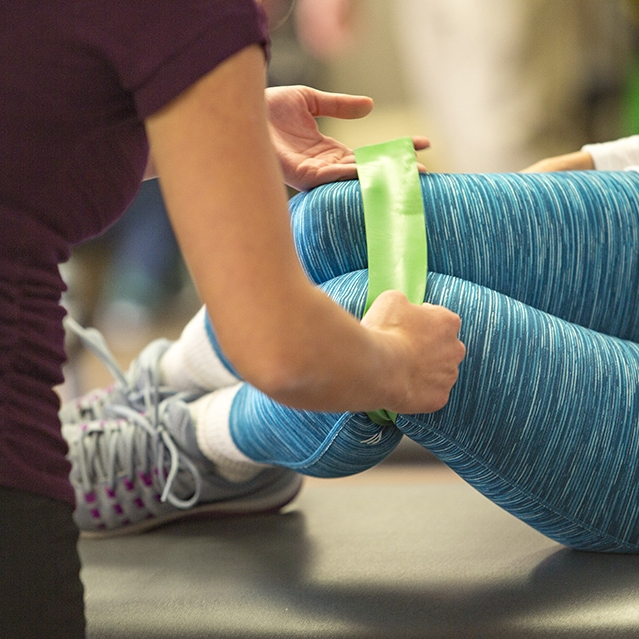 Oncology Rehabilitation Program
We offer a prescribed exercise regimen for anyone that is battling cancer or is a cancer survivor. Research has shown that physical therapy for cancer has helped to address symptoms, reduce pain, and side effects from the treatment. Patients with cancer and cancer survivors that exercise have shown an improvement in their quality of life, aerobic capacity, muscular strength, physical conditioning, fatigue, and physiology.
Whether you are alleviating symptoms, reducing pain, or increasing your strength level, our trained clinicians are here to help all patients with cancer meet their particular needs and to answer any questions.
We see patients that have the following
Impaired motion
Scar tissue
Fatigue
Pain management
Endurance problems
Reduced muscle strength
Balance problems
Chronic pain
Our trained clinicians will help patients with cancer and cancer survivors:
Restore and regain function
Regain balance
Control pain
Reduce swelling
Start a strength training program
Patients with cancer tend not to exercise after diagnosis or after completing treatment
Cancer survivors can safely participate in exercise training at all points along the cancer trajectory
Cancer survivors can adapt to exercise training at all points along the cancer continuum
Exercise training can bring about positive physiological and psychological changes in cancer survivors
Lymphedema Treatment Program:
We offer a Lymphedema Treatment Program at our Crestview Hills/Chancellor Dr. Centers with Lauren Palmer, PT, DPT, CLT. Lymphedema is an accumulation of protein-rich fluid, often manifesting in the arms or legs. Lymphedema is a chronic condition which may worsen if not addressed.
How Physical Therapy Can Help:
Compression is ultitize to prevent the fluid from re-accumulating
Exercise has shown to increase lymphatic flow up to 10 times at rest
Educate patients on how to treat symptoms independently (self manual lymphatic drainage treatments, and wrapping)
Address functional limitations (limited range of motion or strength)
Decrease pain and or discomfort
What You Can Expect During Our Treatment:
Treatment will focus on CDT (Complete Decongestive Therapy) which typically includes MLD (Manual Lymphatic Drainage), patient education, therapeutic exercises, and compression (garments or wrapping)
Patients may be instructed in self lymphatic massage
Measurements of swelling, range of motion, and strength
Our Physical Therapists will evaluate your symptoms to determine the cause